Opposition uproar over 'lying' Russian TV channel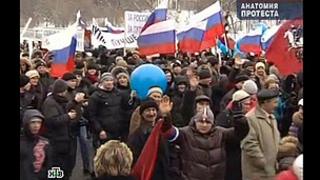 A TV documentary in Russia accusing the opposition of paying people to protest over the 4 March presidential election has caused a backlash on social media and angered journalists.
The film, The Anatomy of Protest, was broadcast on Thursday evening on NTV, a channel run by state-controlled energy giant Gazprom.
The documentary alleged that those who took part in the mass rallies for fair elections had received "money and cookies". It also implied that foreign countries were involved.
"What are people from the US embassy doing at the demonstrations?" asked the narrator, as the camera showed a man saying in German: "I don't understand."
Alexei Navalny, a key opposition figure and one of Russia's most influential bloggers, was accused of spreading misinformation and having "too many bodyguards" who were "beating up journalists".
The film caused dismay among supporters of the opposition and journalists alike, and led to a social media uproar, with the hashtag "NTVlzhet" ("NTV tells lies") becoming the leading trend on Russian-language Twitter.
'Ration of dirt'
Plans were being drawn up to hold a rally "against brazen lies on NTV" on Sunday outside the Ostankino TV centre in Moscow, and a campaign sprang up on the social networking site VKontakte.
A photo uploaded on the event page shows the official NTV logo stamped with the words "violence, stupidity, lies", which in Russian begin with the letters N, T and V.
The Russian blogosphere was ablaze with comment after the show.
Rustem Adagamov, the most popular blogger on Russian-language LiveJournal, said people had spotted TV crews filming stand-ins pretending to be opposition protesters outside the Moscow metro during the protests.
Another well-known blogger, Oleg Kozyrev, tweeted that "with this film, NTV did not increase the number of those who like Putinism, but increased the number of those who have grown tired of Putinism".
The documentary prompted talk of an NTV boycott.
Vladimir Varfolomeyev, deputy editor of Ekho Moskvy radio, wrote on Facebook: "I understand and support those who say that they will not have anything to do with NTV after today's ration of dirt."
"NTV staff: don't' call me, ever. No matter what the occasion, or the programme. Sanitary-hygienic cordon," tweeted Yelena Panfilova from Transparency International.
The film was even criticised by NTV's own journalists.
"This probably contradicts some sort of corporate ethics, but the well-known piece of work of the visual genre is a true disgrace and I am ashamed of the fact that this is happening on a channel where I work," editor Alexander Urzhanov wrote on his Facebook page.
BBC Monitoringselects and translates news from radio, television, press, news agencies and the internet from 150 countries in more than 70 languages. It is based in Caversham, UK, and has several bureaux abroad.