Profile: Germany's Joachim Gauck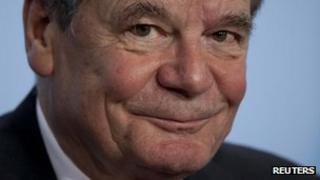 Who would ever have thought that the two highest posts in Germany would be held by products of the old communist state?
After Joachim Gauck was elected to the presidency on Sunday, both the head of state and the chancellor grew up in the old German Democratic Republic. East Germans will symbolise the united country itself and actually run it.
Mr Gauck and Chancellor Angel Merkel were both raised in the East, which crumbled in 1989 with the fall of the Berlin Wall.
Both too have backgrounds in the Lutheran Church - she as the daughter of a pastor, he as a pastor himself.
And both give a very untypical tenor to the public life of the unified Germany - unflashy, feet-on-the -ground and independent of mind and spirit.
They are very different from many of the men in suits who populate German politics.
Chancellor Merkel is often shown in the newspapers doing the supermarket shopping at the end of a day which she started by meeting a president or prime minister.
She lives in her own flat in the centre of Berlin, rather than in the grand official quarters.
Mr Gauck speaks his mind and is a forthright confronter of what he perceives to be wrong.
He went into politics in the East after his father was deported to Siberia for his civil rights activism.
He became a Lutheran pastor in 1965 in the northern port of Rostock, having opted to study theology when other university courses were denied him because of his father's dissidence and because he was not a member of the communist youth organisation.
Then, when the Church spoke out in favour of democracy in the old East Germany in the late 1980s, hes held services which preceded the big demonstrations that eventually toppled the regime.
Name in the frame
When the Wall fell, and Germany was reunited, Pastor Gauck became head of the commission which investigated the activities of the Stasi, the East German secret police.
Since then, whenever there has been a search for a president of the united Germany, he has been the man in the frame.
And each time, he has had wide support across the political spectrum, apart perhaps from the Left, some of whom seem to have resented his anti-communist stance.
He did not, though, have the truly crucial support in 2010 when Chancellor Merkel backed the now-departed Christian Wulff, and opposed Joachim Gauck when he was proposed by the opposition.
Her reasons are unclear but they may be to do with crude politics - Mr Wulff was in her party and was being talked about as a future chancellor.
Back then she got her way, but has not this time. By all accounts, she did not want Mr Gauck as president when Christian Wulff resigned last month, but was outmanoeuvred by the liberal Free Democrats, whose support she needs in the government coalition.
She does, however, seem to get on with him personally.
She may even like him as a human being - and gave a warm speech at his 70th birthday party two years ago.
When it was clear that he had enough support in February to get the job, she said he was a "true teacher of democracy".
Her initial unease may rather have been a matter of politics.
'Emotional strength'
As president Mr Gauck is expected to speak his mind, and in Germany his past gives him real authority. He has charisma.
As his biographer Gerd Langguth put it: "Gauck is someone who can touch people with a speech in a way Merkel can't".
The Sueddeutsche Zeitung said his strengths were his "preacher-like emotionalism", but added that this might present a difficulty for Chancellor Merkel: "His thoughts and words and sometimes even his actions are guided by emotions. As president he will be difficult to predict, he will irritate people."
As though to underline the unpredictable nature of his beliefs, he labels himself as either a "leftist liberal conservative" or a "conservative liberal leftist".
Above all, Mr Gauck will not be run-of-the-mill.
The Reuters news agency reported, for example, that he dismissed the "Occupy" anti-capitalism protest movement as "ridiculous", and that he had made comments about Greece and the eurozone bailouts which could be construed as sceptical.
On one issue before all others, he is expected to be forthright - political freedom.
Just after he was nominated in February, his 64-page treatise in defence of human rights around the globe, Freedom: A Plea, was published.
A president of a country as powerful as Germany who pulls no punches when talking about regimes which tread on people's rights might not be convenient for political leaders who have to weigh words with economic interests.
But forthright statements from the presidential palace of one of the world's economic powers might make waves that travel far - and it might resonate with ordinary people, both in Germany and beyond.
Mr Gauck is already a hero to many Germans and he may become a hero to some non-Germans too.