Norway police say future Breivik-style attacks possible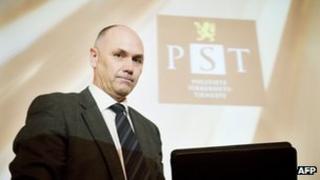 Norway's domestic intelligence agency (PST) has warned that new Breivik-style attacks are possible, saying it had no way of uncovering his plot.
"There is the possibility that another person similar to Breivik could succeed in carrying out terror attacks," PST chief Roger Berg said.
He was speaking as the PST presented its evaluation of the 22 July attacks.
Anders Behring Breivik set off a bomb in Oslo before shooting young people on an island, leaving 77 people dead.
Norwegian police admitted for the first time on Thursday that they could have responded faster to the attack on the island, Utoeya.
Distracted by the bomb in Oslo and hampered by technical failures, police arrived an hour after the shootings began.
'Other mechanisms'
The PST (Police Security Services) is comparable to the MI5 in the UK, the BBC's Anne Leer reports from Oslo.
Its 37-page report examined whether or not there was anything the PST could have done to prevent the attacks and how the agency responded during and after the attacks.
Mr Berg was appointed acting director of the PST on 18 January after the abrupt departure of Janne Kristiansen, who was forced to resign because of her handling of the 22 July attacks.
"On behalf of the PST, I regret that we were unable to prevent the terror attacks," he said.
"In our view Breivik is a solo terrorist with an unusual view of the world.
"He planned the attacks for many years alone and he had an extreme focus on security."
Mr Berg added: "We don't believe we can carry out investigations to find people like Breivik.
"We need to look at other mechanisms in society, how we raise our children, our schools, if we care about each other."
The PST still considers radical Islamism to be the biggest terror threat to Norway and, in its view, the far-right extremist community has not been very active in recent years, our correspondent says.
Accepting the possibility of future attacks by people like Breivik, Mr Berg said:
"We must look at how society can be organised in the future, to make strategic interventions to prevent this from happening."
A further 242 people were injured in Breivik's attacks, the worst violence Norway has seen since World War II.
He has been charged with terror offences but prosecutors have indicated they consider him mentally ill and will seek to have him committed to psychiatric care rather than jailed.
Breivik, who sees himself as a fighter against the "Islamisation of western Europe", is expected to go on trial on 16 April.