Norway police admit slow response to Breivik massacre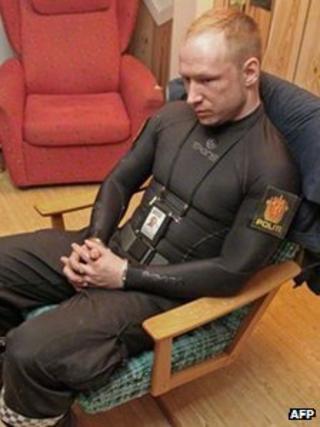 Norwegian police have admitted for the first time that they could have responded faster to a massacre at a youth camp last July.
Anders Behring Breivik opened fire on young activists gathered on Utoeya island last summer, killing 69 people.
The police, distracted by a bomb Breivik had set off in Oslo and hampered by technical failures, arrived an hour after his killing spree began.
State Police Director Oystein Maeland apologised on behalf of the police.
"Every minute was one minute too long," he said.
"It is a burden to know that lives could have been saved if the gunman had been arrested earlier."
'Satisfied with apology'
The admission came in the police's own investigation into their response to the shootings on 22 July 2011.
Right-wing extremist Breivik, 33, set off a bomb at a government building that day, killing eight people.
He then went on a shooting spree on Utoeya island, 40 km (25 miles) away, at a Labour Party youth camp.
Breivik was arrested one hour and 20 minutes later, after police were held up when their overloaded boat began to take on water.
Norwegian police were also criticised for not utilising a helicopter they had at their disposal earlier.
Unni Espeland Marcussen, whose 16-year old daughter Andrine is believed to have been the last person killed on Utoeya, told the Aftenposten website that she was satisfied with the police apology.
"I think it's good that they're self-critical. We've waited for a long time for an apology," she said.
Overall 77 people were killed and 242 were injured in Breivik's attacks, the worst violence Norway has seen since the second world war.
He has now been charged with terror offences, but prosecutors have indicated they consider Breivik mentally ill and will seek to have him committed to psychiatric care rather than jailed.
Breivik is expected to go on trial on 16 April.