Norwegian Hercules plane vanishes en route to Sweden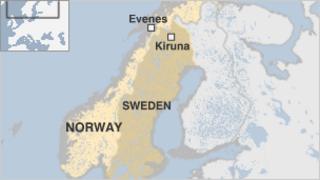 The Norwegian military fear a Hercules transport plane carrying five people has crashed while flying to Sweden during a winter exercise.
The Norwegian air force C-130 was heading from Evenes in northern Norway to the Swedish city of Kiruna where it was supposed to pick up personnel.
Air traffic controllers lost contact west of Kiruna at 13:40 GMT.
A joint Swedish-Norwegian operation to find the plane is being hampered by bad weather.
"We have to assume that we are looking for a plane that has crashed," Norwegian military spokesman John Espen Lien told the Associated Press news agency.
Five Norwegian nationals - four men and a woman - were on board the aircraft, officials said.
The plane was taking part in a Norwegian-led exercise called Cold Response to "rehearse high intensity operations in winter conditions within Nato with a UN mandate".