Ship's bell 'goes missing' from sunken Costa Concordia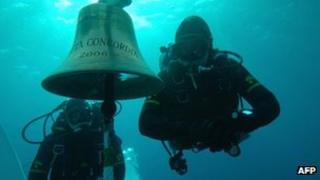 The ship's bell of the Costa Concordia, which ran aground off Italy two months ago, is reported to have gone missing.
An investigation has been launched into the disappearance, the Italian news agency Ansa reports.
Pictures of the bell, taken underwater by divers soon after the vessel sank, became a well-known image associated with the disaster.
At least 30 people are believed to have died when the ship struck rocks near the Tuscan coast two months ago.
Soon after the Costa Concordia capsized, images taken by divers showed the bell still hanging in position on the wreck, but several metres under water.
A judicial source quoted by the Reuters news agency said that thieves stole the bell from one of the ship's decks two weeks ago.
Morbid memento?
The location of the wreck, off the island of Giglio, is considered a crime scene and is continually patrolled by coastguard launches.
The BBC's Rome correspondent, Alan Johnston, says this would make it almost impossible for any diver intending to loot the wreck to enter and steal the bell.
He says it is likely that if the bell's disappearance is confirmed, suspicion will focus on the search-and-rescue teams, who have constant access to the wreck.
It would have been difficult to get the large, heavy and gleaming bell onto the shore unnoticed - and it is possible that it has simply dislodged itself, he adds.
"I can only guess that someone took it as a sort of morbid memento," Giglio mayor Sergio Ortelli told Reuters.
"In my mind, the missing bell is of no importance. We have the ship's statue of the Madonna in our church, and that has much more symbolic meaning for us."
The Costa Concordia lies half-submerged in a precarious position on an underwater slope, and is considered to be at risk of slipping further into the depths.
The ship's captain, Francesco Schettino, denies accusations of manslaughter, causing a shipwreck and abandoning ship before all those aboard were evacuated.