Swiss bus crash: Rescuers recount horror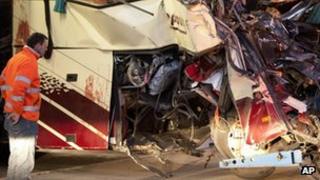 Rescuers have been describing their shock when trying to help victims of the coach crash in Switzerland near the town of Sierre.
At least 22 children and six adults were killed when the coach, returning from a ski trip, plunged into the wall of a tunnel late on Tuesday.
Police commander Christian Varone compared the scene to a war zone and said that even officers who had dealt with serious accidents and natural disasters in the past were overwhelmed by what they saw.
"We found an apocalyptic situation when we arrived," the police commander for Valais said.
One of the first rescuers on the scene, Claude Peter, who arrived just 20 minutes after the crash, told Swiss newspaper Le Matin that even an experienced rescue team was horrified by the scene that confronted them.
"In this area, we are ready to deal with most things because we've had numerous avalanches in the past, and we have particularly well-trained emergency rescuers and doctors."
'I heard a crash'
Mr Peter, who is head of emergency rescue services in the d'Anniviers Valley, said there was also a personal reason for his shock.
"I have a daughter who is 12 years old and seeing children of the same age wounded shocked me a lot," he said.
He described arriving on the scene with a team of 16 rescuers and two doctors and taking charge of the group of traumatised children who had survived.
"There were legs that were in a terrible state. It was very difficult for our men to see all these limbs crushed after the impact."
From inside the bus, a 12-year-old girl described the moment of the crash itself.
"It was dark. I heard a massive crash," the girl, who broke both her legs in the accident, told the Swiss newspaper L'Avenir.
"All the seats went up in the air. I found myself trapped between two of them."
Alain Rittiner, another rescuer with two decades of experience who was among the first on the scene described what he found as "worse than anything you can imagine".
"The screams of children were the first thing we heard," he said, saying rescuers were momentarily stunned by their cries before their instincts kicked in and they began emergency operations.
"Access to the vehicle, which is quite high, was difficult and it was hard to remove the victims. Emotions ran high, and with so many children, it was an absolute horror," he told Swiss television.
Soon, a total of some 200 people were at the scene, including police officers, firefighters, doctors and medics. They worked for hours through the night while 12 ambulances and eight helicopters took the injured to hospitals in the holiday region.