Belgium Switzerland coach crash: Press review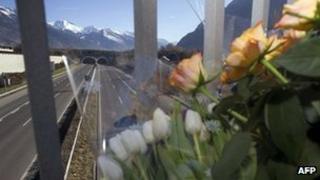 Pain over the loss or damage to so many young lives, so suddenly, permeates newspapers in Belgium the day after the school coach crash, while the Swiss press agonises over the question, how did it happen.
"Death cannot put up with happiness..." writes journalist Hugo Camps in Flemish Belgium's De Morgen.
"There are actually no words for this. On this Black Wednesday, nothing mattered anymore.
"Dreams and ambitions set out in 22 little coffins. Better not to be there..."
In the same paper's editorial, An Goovaerts says: "There is no satisfactory reply to the question: why my child?"
Bart Sturtewagen, editor of De Standaard, another Dutch-language paper, writes of the "worst nightmare".
"A national tragedy stops the normal course of events," he says.
"We all know these moments are brief. Yet they are long enough for us to feel what is important in life, and to remember that we only appreciate it when it is coldly taken from us."
"School skiing trips are not meant to end like this..." writes Liesbeth Van Impe in an editorial in the Flemish daily, Het Nieuwsblad.
"But sometimes fate strikes. Sometimes there is nobody left to blame, sometimes all that remains is helplessness."
Bart Haeck, writing in the business newspaper, De Tijd, notes that a basic ambition of human beings is to leave the world a better place for their children.
"Yesterday, the world did not get better," he says. "For 28 families, it even fell apart."
'Pointless questions'
Beatrice Delvaux, editorial-writer of Belgium's French-language Le Soir, writes of a "grief so close, so intimate".
Yes, she says, no words can express the tragedy and yet "we have to pronounce these words, clumsy as they may be, and make these gestures, even if derisory: they are the only supports we have to offer in the face of grief".
The front page of Switzerland's Tages-Anzeiger takes a similar line: "When you lose a child, there are no words."
Fellow Swiss newspaper La Tribune de Geneve provides a platform for bloggers on the tragedy.
Patrice Gras writes that "these accidents remind us that we do not amount to much" while Olivier Perroux takes issue with journalists who rushed to judge safety measures in the tunnel before the Swiss authorities had even held a news conference.
In a review of Swiss newspapers, La Tribune's Sandrine Perroud notes that they are "obsessed" with finding the causes of the crash.
Everything from factors that might have distracted the driver to possible flaws in the design of the tunnel is examined.
"Switzerland and Belgium are seeking to understand, even if nothing more can be done to save lives," Perroud writes.
She quotes Anne-Lise Bourgeois, who worked as a tour guide for the children and spoke to Switzerland's L'Express/L'Impartial newspaper.
"All we have are pointless questions," the guide said.