Anxious wait for parents of Belgian schoolchildren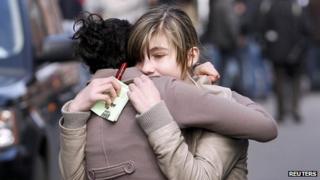 Parents and relatives of the children from two Belgian primary schools who were on board a coach that crashed as it returned from a skiing holiday have gone to Switzerland.
As they left, some did not yet know if their children were among the 28 killed.
The coach which crashed in an alpine tunnel was carrying more than 50 people, most of them schoolchildren.
Twenty-four pupils from the Catholic St Lambertus school in the Leuven suburb of Heverlee were on board the bus.
The parish priest, Dirk de Gendt, said both the adults travelling with the group had been killed - a teacher and an assistant.
Sixteen of the children were known to be injured and alive - but the school had no news of the remaining eight, he said.
"We are providing psychological support, and above all standing by the parents who are suffering," Mr de Gendt said.
The remaining children on board the bus were pupils at Stekske school in the northern Belgian town of Lommel.
Reports suggest that the Stekske pupils were sitting at the front of the coach, which was worst affected by the impact.
The deputy mayor of Lommel, Kris Verduyckt, told reporters that only four children from the school had been in contact with their families - and that there were 18 children about whom they had no news.
Relatives of the children travelled to Melsbroek air base near Brussels to take a military plane to Switzerland.
At the air base they were greeted by King Albert and Queen Paola of Belgium, as well as the country's Prime Minister, Elio di Rupo.
The BBC's Hugh Schofield in Heverlee said parents at St Lambertus school spent an hour or two with the head teacher, a psychologist and the priest before being taken by bus to Melsbroek.
For some parents there was relief as they heard from their children, but they may have been sitting next to parents who had no news and could only assume the worst, he said.
Speaking outside the primary school in Lommel, local bishop Patrick Hoogmartens said families were feeling powerless.
"None of the parents know what has happened exactly, if their child has been affected or not," he said.
"They are going there with just hope."
The Netherlands' foreign ministry has said that 10 children on board the bus were Dutch. It is not known if any of them are among the dead.
Lommel is very close to the Dutch border.
Erik de Soir, a trauma psychologist working with relatives at Stekske school, told reporters that it was hard to imagine what the parents were going through as they arrived carrying overnight bags for the trip to Switzerland.
"You know your child was on the bus but you don't know whether he or she is dead or injured," he said.
"It is terrible to have to wait for confirmation of the information."