Hungary Orban: Court boost for independent radio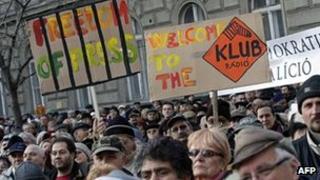 An appeals court in Hungary has overturned a decision to strip a leading independent radio station, Klub Radio, of its licence to broadcast.
Klub Radio, seen as the main anti-government station, lost its licence to a music station, on a decision of Hungary's new Media Council.
The Media Council says it now wants to re-examine the licence tender.
Civil liberties campaigners say the case is a test of media freedom under Prime Minister Viktor Orban.
Mr Orban's conservative party Fidesz has a two-thirds majority in parliament, giving it more power than previous Hungarian governments have had since the collapse of communism in 1989.
It has been accused of seeking to consolidate its authority by restricting media critical of its policies.
Mr Orban has insisted the new media laws contain no provisions that could not be found in other European countries.
Music requirement
In December, Klub Radio challenged the decision of the Media Council, the national authority set up under the new laws, to award its Budapest 95.3 MHz frequency to a new music channel, Autoradio.
The council withdrew Klub Radio's licence for the frequency on the basis of a tender which required the winning station to broadcast music 60% of the time.
Klub Radio had been allocating only 22% of its airtime to music.
On Wednesday, the capital court of appeals ruled that the tender had not complied with regulations and the Media Council must make a new decision.
Klub Radio itself said it should now be automatically awarded the tender, as it was in second place.
But a statement issued by the Media Council suggested that all the rival bids for the frequency, including that of Klub Radio, should now be re-examined.
Klub Radio describes itself as "the only one talk and news radio station in Hungary with a scrutinising attitude towards government and social issues".
US Secretary of State Hillary Clinton personally intervened on its behalf during its battle with the Media Council.
Human Rights Watch, the New York-based campaign group, said the case had "come to symbolise the crackdown on media freedom by the Hungarian government".
Philip Cordery, head of the Party of European Socialists, said the party fully backed Klub Radio "and its legitimate right to voice its opinion without fear of reprisal".
"Democracy loses its meaning without transparent and independent media," he added.
"Fidesz's crackdown on civil liberties must stop. We hope that the court will see things from this perspective."