French election: Le Pen set to join presidential race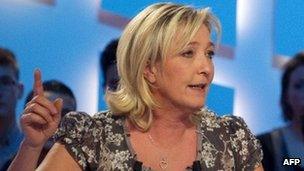 Far-right leader Marine Le Pen says she has secured the support of the 500 elected officials necessary to stand in the French presidential election.
The National Front candidate, who is third in the opinion polls, said last week she was struggling to find enough endorsements to enable her to stand.
The latest poll, by Ifop, puts President Nicolas Sarkozy ahead for the first time in the campaign.
But it gives Socialist rival Francois Hollande victory in the second round.
According to the poll, for Europe 1 and Paris Match, Mr Sarkozy would win 28.5% of the vote in the first round on 22 April, while Mr Hollande gets 27% and Ms Le Pen 16%. Centrist candidate Francois Bayrou is on 13%.
But it suggested that Mr Hollande would win the second round in May by a margin of 54.5% to 45.5%.
Ms Le Pen had admitted last week that she was having trouble picking up the necessary 500 endorsements before this Friday's deadline, while candidates with far less popular support had relatively little trouble.
"I have my 500 signatures and therefore I will be a candidate in the presidential election," she told Reuters news agency on Tuesday. The National Front leader is expected to make an official declaration later in one of her electoral strongholds - the Pas de Calais in northern France.
She later tweeted her thanks to the mayors and activists who had supported her, repeating her view that the establishment had tried to stop her candidacy: "The system that wanted to prevent me has just lost a battle."
Last month, she failed to persuade France's highest court, the Constitutional Council, to overturn the system of public endorsements by officials, in favour of anonymity.
Ms Le Pen has called for a 95% cut in annual immigration but has also broadened her party's traditional anti-immigration agenda to include a call to abandon the euro.
Meanwhile, Mr Sarkozy has vehemently denied an allegation that deposed Libyan leader Muammar Gaddafi provided millions of euros of campaign funding before the 2007 presidential election.
During the Nato-led air strikes on Libya last year, Gaddafi's son Saif al-Islam claimed that Libya had helped finance Mr Sarkozy's campaign, an allegation rejected at the time by the Elysee palace.
Investigative website Mediapart published on Monday a memo dating back to December 2006 that referred to the "modalities of the fin[ancing] of the campaign NS settled during the visit to Libya of NS + BH 6th Oct 2005".
The Mediapart memo, written by private operative Jean-Charles Brisard, was said to have been based on conversations he had had with a doctor of French-Lebanese arms dealer Ziad Takieddine.
According to Mediapart, the initials in the document, which has not been verified, refer to Mr Sarkozy, former interior minister Brice Hortefeux and also Mr Takieddine, who it alleged had organised the funding.
Mr Takieddine denied the allegations on France 24 TV, insisting that the whole story was based on "lies". "Nothing of this happened. There was not one bit of any finance from Libya to France or from Gaddafi to Sarkozy. Nothing."
Appearing on French TV channel TF1 on Monday night, Mr Sarkozy said "it's grotesque and I am sorry that I am being interrogated about declarations of Gaddafi or his son on a major channel like TF1".
"If he had financed it, I wasn't very grateful," he said.
Rounding on the journalist, Laurence Ferrari, the president added that he was sorry that she should act as "Gaddafi's son's spokeswoman".
Related Internet Links
The BBC is not responsible for the content of external sites.