Albania jails officials over Gerdec arms-dump blast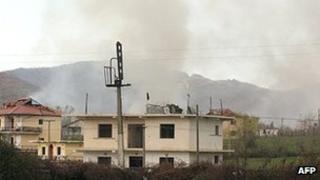 Albania has jailed 19 former officials over a series of explosions at an ammunition disposal factory in 2008.
The court ruled that the officials had failed to follow security procedures for destroying military equipment.
Ylli Pinari, the former weapons department chief, was jailed for 18 years. The other officials received between one and 18 years in prison.
Twenty-six people were killed and hundreds injured in blasts at Gerdec, near the capital Tirana.
Relatives of those who died have accused the courts of being too lenient on the officials.
Zamira Durda, whose six-year-old child was killed in the explosions, said the court had not given her justice.
"Four years after the explosion [officials] have killed my child for a second time," she said.
A joint statement from the victims' families said that the judges had discovered a lot of details about the case "but who killed our 26 beloved ones remains an enigma".
The explosions lasted 14 hours causing shrapnel and fragments of shells to rain down on the area.