Slovakia election: Robert Fico's Smer wins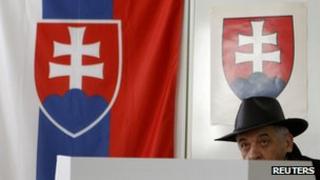 The social democrat opposition in Slovakia has won the general election outright, taking 84 out of 150 seats.
Earlier, exit polls suggested the Smer party of ex-Prime Minister Robert Fico would fall short of a majority.
Mr Fico, whose party backs higher taxes for the rich, pledged to stick with the previous government's policy of reducing the deficit.
The outgoing centre-right government of Iveta Radicova was plagued by a financial scandal.
Results from 94.2% of districts showed Smer took 44.9% of the vote in Saturday's election.
The election comes two years early after the governing coalition collapsed last October when one of its junior members refused to back the expansion of the eurozone's bailout fund.
However, at the heart of the recent unrest is a file known as "Gorilla" - allegedly compiled by Slovakia's spy agency - that appeared on the internet in December suggesting that the financial group Penta had bribed most of the parties in the 1998-2006 centre-right government of then-Prime Minister Mikulas Dzurinda.
On Friday, anti-corruption protesters clashed with police in the capital Bratislava.
Protest organisers called on Slovaks not to vote for the established political parties, which they say have all been tainted by scandal.
About 300 demonstrators pelted police with stones and eggs as officers used tear gas to keep them from storming parliament.