Slovaks rally against corruption in Bratislava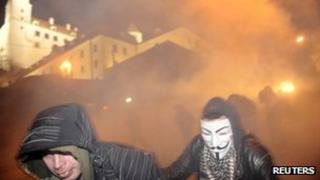 About 1,000 people in the Slovak capital Bratislava have taken part in an anti-corruption protest, the day before a general election.
About 300 protesters threw stones and eggs at riot police who used tear gas to keep them from storming parliament.
The organisers called on Slovaks not to vote for the established political parties, which they say are corrupt.
The protests follow the publication of a file allegedly compiled by the country's spy agency.
The so-called "gorilla file" appeared on the internet in December.
It alleges that most parties in the 1998-2006 centre-right government of then-Prime Minister Mikulas Dzurinda were mired in corruption due to close ties with a local financial group, Penta.
Penta is alleged to have bribed government and opposition politicians in 2005-06 to win lucrative privatisation deals. Both Penta and the politicians named deny the allegations against them.
Rallies were also held in other major cities on Friday. At least a dozen protesters were detained by police in Bratislava.
The protesters called for Saturday's vote to be postponed to September so that political parties can clear tainted politicians from their list of candidates
Analysts have predicted that Slovaks could turn out in record low numbers of just 40% to register their anger.
The early election was triggered in October when outgoing premier Iveta Radicova sacrificed her government to secure the passage of a eurozone bailout bill.