France election: Polish PM denies boycott of Hollande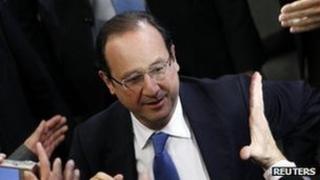 Polish Prime Minister Donald Tusk has denied boycotting French Socialist presidential candidate Francois Hollande as he visits Poland.
Mr Tusk said he was not aware of any verbal agreement between centre-right leaders in Europe to shun the election favourite in favour of Nicolas Sarkozy.
Mr Hollande is to meet Polish President Bronislaw Komorowski.
The French Socialist has already visited Germany, Italy and the UK without meeting their prime ministers.
Opposition politicians in Poland have accused Mr Tusk of taking a short-sighted view of relations with France.
An opinion poll suggests Mr Sarkozy is the least popular leader in the five biggest states of the EU, with Germany's Chancellor Angela Merkel the most popular.
Conducted in Germany, Spain, Italy, France and the UK, the BVA internet poll also indicates Mr Sarkozy is one of the most recognisable leaders in the EU.
In another development, French media are reporting that film star Gerard Depardieu has agreed to attend a campaign rally for Mr Sarkozy on Sunday.
The first round of the French election is due to take place on 22 April, with Mr Hollande and Mr Sarkozy expected to reach the run-off on 6 May.
'Strange boycott'
Campaigners for Mr Hollande had reportedly announced several times that he would meet Mr Tusk, following a visit to London last week during which he was not received by Prime Minister David Cameron.
Mr Tusk's office was not saying the meeting had been cancelled, but just that one would not take place, the BBC's Adam Easton reports from the Polish capital, Warsaw.
The Polish newspaper Rzeczpospolita wrote on Wednesday that a meeting between the two had been "planned but it dropped out of the calendar".
"On issues involving elections in other countries, I have the custom of behaving with restraint," Mr Tusk said by way of explanation.
He denied there was any pact between centre-right leaders to support Mr Sarkozy, whose re-election campaign has nonetheless been endorsed by both Mrs Merkel and Mr Cameron.
Correspondents say there is concern in some governments over Mr Hollande's criticism of the recently agreed EU fiscal compact.
Tadeusz Iwinski, an MP from Poland's opposition Democratic Left Alliance, said he was surprised by Mr Tusk's stance.
"This is shortsighted politics," he said.
"All of the opinion polls are indicating that it is the Socialist candidate who will be elected president of France.
"Instead of establishing relations with him right away, the prime minister is taking part in some strange boycott."
'Banker-bashing'
Mr Hollande's stance on the fiscal pact, as well as his call for income tax of 75% on French euro millionaires, has alarmed politicians on the right and left in other EU states, some analysts say.
"Informed sources in Britain, even in the [opposition] Labour Party, are afraid of possible financial instability following a Francois Hollande victory," John Gaffney, a French politics specialist at the UK's Aston University, told AFP news agency.
"Many in the [German opposition] SPD are even more sceptical."
Maurice Fraser, a France specialist at Chatham House in London, said: "In Britain his banker-bashing rhetoric of course has been noted, for understandable reasons, given the importance of Britain as a partner and ally and fellow EU member of France.
"His overall discourse in the UK is seen as curiously old-fashioned in the sense that the rhetoric seems to be retreating into the Socialist comfort zone."