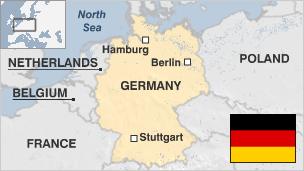 Germany is Europe's most industrialised and populous country. Famed for its technological achievements, it has also produced some of Europe's most celebrated composers, philosophers and poets.
Achieving national unity later than other European nations, Germany quickly caught up economically and militarily, before defeats in the two World Wars left it shattered, facing the difficult legacy of Nazism, and divided between Europe's Cold War blocs.
Germany rebounded to become the continent's economic giant, and a prime mover of European cooperation. With the end of the Cold War, the two parts of the country were once again united, although the economy of the former east continues to lag behind the rest of the country.
Federal Republic of Germany
Capital: Berlin
Population 82 million

Area 357,027 sq km (137,849 sq miles)

Major language German

Major religion Christianity

Life expectancy 78 years (men), 83 years (women)

Currency euro
Getty Images
The 63-year-old former finance minister defied earlier expectations by winning the September 2021 election.
He formed a coalition with the Greens and business-friendly Free Democrats in December, becoming the first Social Democrat chancellor since 2005.
He takes over from the Christian Democrat Angela Merkel, Germany's first female chancellor, who governed for 16 years in coalition with either the Free Democrats or the Social Democrats.
Mr Scholz was her vice-chancellor as well as finance minister in 2018-2021.
The new government plans to combat climate change with an ambitious target of phasing out coal ahead of schedule, and focusing on renewable energy.
President: Frank-Walter Steinmeier
Former foreign minister Frank-Walter Steinmeier was elected federal president in February 2017, succeeding Joachim Gauck.
A Social Democrat, Mr Steinmeier enjoyed the support of Chancellor Angela Merkel's "grand coalition" of centre-right and centre-left parties.
In his acceptance speech, he pledged to stand up to the rising trend of xenophobic populism, and promote inter-communal dialogue and democracy.
This became all the more topical in September, when the anti-migrant Alternative for Germany broke through to become the first hard-right party to win seats in parliament since the Second World War.
Germany's competitive television market is the largest in Europe, with more than 38 million TV households.
Regional and national public broadcasters vie for audiences with powerful commercial operators.
Germans are avid newspaper readers and the non-tabloid press is a trusted news source.
Internet use is near-universal. Facebook is the most popular social network,
Some key dates in Germany history:
1871 - Otto von Bismarck unifies Germany.
1914-1918 - World War I. Germany is defeated and becomes a republic.
1933 - Adolf Hitler, head of the far-right Nazi Party, becomes chancellor.
1939-45 - Second World War sees defeat of Germany and its partition into the pro-western Federal Republic and the Soviet-controlled German Democratic Republic.
1955 - West Germany joins Nato; East Germany joins the Warsaw Pact.
1957 - West Germany is a founding member of the European Economic Community.
1961 - Construction of the Berlin Wall to prevent flight of East Germans to the increasingly prosperous West.
1970 - West German Chancellor Willy Brandt establishes relations with East Germany in an effort to ease tensions across the Iron Curtain.
1989 - Mass exodus of East Germans as Soviet bloc countries relax travel restrictions. Berlin Wall is torn down.
1990 - Chancellor Helmut Kohl reunites Germany as a single state.
2005 - Christian Democrat Angela Merkel becomes chancellor.
2015-2016 - Government allows more than a million asylum seekers from the Middle East and beyond to stay, raising public concerns about crime and public services that far-right groups exploit.
Related Internet Links
The BBC is not responsible for the content of external sites.