China 'blocks Airbus deals' in EU carbon levy spat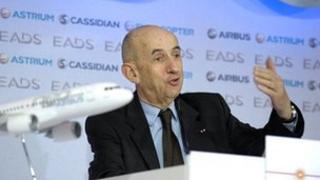 China has blocked firms from buying planes made by European manufacturer Airbus in a row over a carbon levy, the firm's parent company EADS has said.
EADS chief executive Louis Gallois says Airbus is being subjected to "retaliation measures" by China.
The EU levy took effect on 1 January, and will charge airlines for the amount of carbon dioxide (CO2) they emit.
Beijing has not commented, and it is not clear whether it is official policy or a negotiating ploy, analysts say.
"The Chinese government refuses to approve airlines' orders for long-haul aeroplanes," Mr Gallois told a news conference as he presented the company's annual results.
Mr Gallois said opposition by Beijing could affect the sales of at least two dozen long-haul A330 planes this year and next.
This appears to be the heaviest weapon yet deployed in the battle between the EU and its opponents over charging airlines for their global warming emissions, says BBC environment correspondent Richard Black.
He says it is surprising because tensions appeared to be decreasing a couple of weeks ago, when countries including China decided not to pursue legal action against the EU, but pursue a negotiated outcome.
However, Air China said it did not believe China has banned airlines from ordering Airbus aircraft.
The Chinese carrier has no plans to cancel existing orders, a spokeswoman told Dow Jones news agency.
Widespread complaints
Critics say the EU has no right to impose levies on flights to or from destinations outside Europe.
But in December, the European Court of Justice ruled that the EU levy on CO2 pollution from aircraft was legal.
No air carrier will face a bill until 2013 after this year's carbon emissions have been tallied.
The Emissions Trading Scheme (ETS) creates permits for carbon emissions. Airlines that exceed their allowances will have to buy extra permits, as an incentive to airlines to pollute less.
The number of permits is reduced over time, so that the total CO2 output from airlines in European airspace falls.
More than two dozen countries, including China, Russia and the US, have opposed the EU move, saying it violates international law.