Finland profile - Media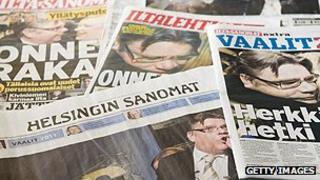 Finland's broadcasting sector is dynamic.
The public broadcaster Yle is funded by an annual tax. It operates alongside privately-owned radio and TV networks.
TV is the most popular medium and Yle's flagship TV1 is the most-watched channel. MTV3 and Nelonen are the leading commercial networks.
Newspapers are privately-owned and reflect a range of views. Influential daily Helsingin Sanomat is the most-read paper.
Finland ranked fourth out of 180 countries in the Reporters Without Borders 2018 World Press Freedom Index.
Around 5.2 million Finns were online by December 2017, a penetration rate of more than 94% (Internetworldstats.com). The internet is "open and unrestricted", says Freedom House.
Facebook is the top social media destination.
The press
Television
Radio
News agency