Prosecutor seeks 28-year jail term for Vojislav Seselj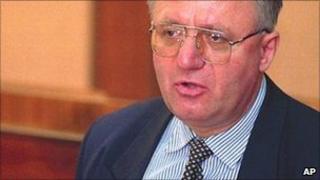 Prosecutors in the war crimes trial of Serb nationalist Vojislav Seselj at The Hague have called for him to be jailed for 28 years.
Mr Seselj, 57, faces nine charges of war crimes and crimes against humanity over the Balkan wars of the 1990s.
Prosecutor Mathias Marcussen called for the sentence during closing arguments.
Mr Seselj pleaded not guilty on all charges when the trial started in 2007. He has not mounted a defence of his own or called any witnesses.
He is accused of forming a joint criminal enterprise with the late Serbian leader Slobodan Milosevic to "ethnically cleanse" large parts of Bosnia, Croatia and Serbia's northern Vojvodina region.
The charges against himinclude murder, torture, sexual assault, forced transportation and destruction of property.
The trial was halted for a year after prosecutors said the case had been compromised by threats against witnesses.
Mr Seselj surrendered to the International Criminal Tribunal for the former Yugoslavia (ICTY) in 2003.