Hungary faces European court warning over new laws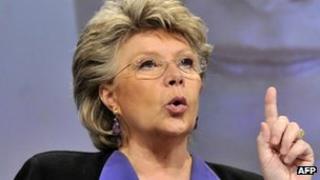 The European Commission has warned Hungary's conservative government it must make further changes to its laws within a month, or face court action.
The Commission began proceedings in January over laws that compel judges to retire early and over the independence of Hungary's data protection authority.
In a statement, the Commission said Hungary had responded to some concerns, but serious questions remained.
PM Viktor Orban is currently trying to secure 20bn euros in EU/IMF loans.
Neither the European Union nor the International Monetary Fund has yet agreed to provide financial help to Budapest and Commission spokeswoman Pia Ahrenkilde Hansen said further clarification was needed before talks on the loans could begin.
The European Commission's objections relate to a new constititution that came into force on 1 January, which was introduced after Mr Orban's 2010 election victory gave his conservative Fidesz party a two-thirds majority in Parliament.
Under the constitution, the retirement age for judges is lowered from 70 to 62, which will require 274 judges and public prosecutors to step down within a year. The Commission says the move violates its rules on age discrimination.
The Budapest government was also criticised for sacking the head of the country's data protection agency and has faced questions over the independence of the new one. And EU officials raised objections in January about the independence of Hungary's central bank.
Balancing the books
Budapest has now been sent two "reasoned opinions", the second stage under EU infringement proceedings.
If it fails to respond properly, Hungary can be referred to the EU's Court of Justice.
EU Justice Commissioner Viviane Reding, said it was "essential that the Hungarian authorities address the Commission's legal concerns swiftly. I would like to see real changes to the legislation in question to alleviate the Commission's legal concerns."
Ms Reding acknowledged that the government had addressed some of the concerns in Brussels, including guaranteeing the independence of the central bank.
The government in Budapest is also struggling to balance its books; it has already had some European funding frozen because of excessive spending.
It is hoping to reach a deal with the EU and International Monetary Fund on a standby loan worth up to 20bn euros (£16.5bn; $25bn).
Hungary's total debt has risen to 82% of its output, while its currency, the forint, has fallen to record lows against the euro.