Finland country profile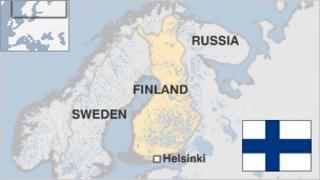 In spite of its relatively small population, Finland has been a trendsetter in many fields since independence in 1917.
It scores consistently well on international ratings for stability, freedom, public safety and social progress
Its parliament was the first to adopt full gender equality, granting men and women the right not only to vote but also to stand for election in 1906.
Finland declared independence from Russia in 1917 but, following its defeat at the hands of the Soviet Union in the Second World War, it had to tolerate strong influence from Moscow until the end of the Cold War.
Read more country profiles - Profiles by BBC Monitoring
FACTS
Republic of Finland
Capital: Helsinki
Population 5.5 million

Area 338,145 sq km (130,559 sq miles)

Major languages Finnish, Swedish

Major religion Christianity

Life expectancy 79 years (men), 84 years (women)

Currency euro
Getty Images
LEADERS
President: Sauli Niinisto
Sauli Niinisto won the presidential election in 2012 to become the country's first conservative head of state in five decades.
The victory of the pro-Europe politician suggested that voters wanted to keep the country in the eurozone, despite misgivings over European Union bailouts.
Mr Niinisto is credited with leading Finland's economy towards growth following the collapse of the Soviet Union during his tenure as finance minister from 1996 to 2001.
Finland's president has a largely ceremonial role with fewer powers now than in previous decades, but can be an important shaper of public opinion.
Mr Niinisto comfortably won a second term in the January 2018 election.
Prime Minister: Juha Sipila
Juha Sipila became prime minister in April 2015 following his liberal Centre Party's victory in parliamentary elections.
A businessman from the electronics and financial services sectors, he heads a coalition government with two conservative groups, the Finns Party and the National Coalition Party.
His government resigned in March 2019 over its failure to make progress on reform of the costly welfare and healthcare spheres, but will remain in office untl elections in April.
MEDIA
TV is the most popular medium. Public broadcaster Yle operates alongside commercial networks.
The state of media freedom is rated highly by international press freedom organisations.
Around 94% of Finns are online.
TIMELINE
Some key events in Finland's history:
1809 - Finland is ceded to Russia by Sweden, which has dominated the country since the 1300s. The Finns retain a considerable amount of autonomy.
1899 onwards - Attempt at Russification of Finland, including conscription of Finnish men into the Russian army and the imposition of Russian as an official language. Campaign of civil disobedience begins.
1906 - Parliament Act establishes universal suffrage, including the right for women to stand for elected office, for the first time in Europe.
1917 - The Russian Revolution allows Finland to declare its independence.
1918 - Civil war. A rebellion by leftwing Red Guards is put down by General Carl Gustaf Emil Mannerheim.
1939 - Winter War: Despite fierce resistance to invading Soviet troops, the Finns are forced to concede 10% of their territory.
1941-44 - The Continuation War: Conflict between Finland and the Soviet Union during the Second World War, which ended in an armistice and Finland having to pay reparations.
1948 - Finland signs friendship treaty with the Soviet Union, and throughout Cold War pursues a policy of friendly neutrality towards Moscow.
1992 - Friendship treaty with Soviet Union of 1948 declared null and void following the collapse of the Soviet Union. Finland turns increasingly towards the west.
1995 - Finland joins the European Union.
2016 December - Finland emerges from an economic downturn lasting nearly a decade.