Dagestan 'black widow' bomber kills Russian police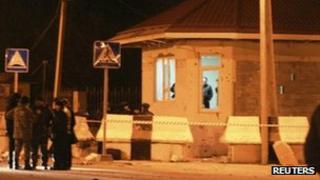 A suicide bomber has killed herself and five police officers in Dagestan, Russia, weeks after security forces killed her husband, prosecutors say.
The bomber attacked a checkpoint in the village of Karabudakhkent using a bomb packed with shrapnel, and two other police officers were wounded.
She was later named as the widow of a militant killed by special forces along with four others in February.
Russia has a history of women suicide bombers known as "black widows".
They are associated with the North Caucasus where Islamist militants in Dagestan and neighbouring Russian republics are waging a separatist war against the Russian state.
The President of Dagestan, Magomedsalam Magomedov, has promised compensation for the families of the police officers killed on Tuesday night.
"The situation in the republic, unfortunately, is difficult and only real patriots can carry out their duty, conscientiously and courageously, in spite of the danger," he told a meeting of security officials after the attack.
Relatives of the bomber identified her as the widow of a militant killed on 10-11 February near Karabudakhkent, a village 40km (24 miles) south of the republic's capital, Makhachkala.
Dagestan, a predominantly Muslim, multi-ethnic republic which borders Chechnya, has seen some of the worst militant violence in the North Caucasus in recent years.