France implants: PIP boss Mas jailed for bail default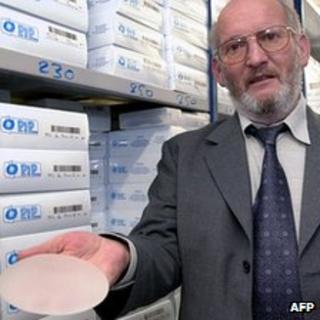 The founder of the French breast implant company at the heart of a global health scare has been jailed after failing to pay his bail.
Jean-Claude Mas, 72, was released on 100,000 euro (£83,000; $131,000) bail in January, facing a charge of "involuntary injury".
Poly Implant Prothese (PIP) was shut down in 2010 after it was found to have used industrial-grade silicone gel.
Up to 400,000 women in 65 countries are thought to have had the implants.
The French government has advised 30,000 women to have their PIP implants removed, a call repeated in several other countries, including Germany and the Czech Republic.
Mr Mas, a former travelling salesman who got his start in the medical business by selling pharmaceuticals, founded PIP in 1991.
It went on to become the world's third-largest silicone implant producer.
He was taken on Tuesday to Baumettes prison in Marseille.
He has in the past admitted that the silicone gel had not been medically approved but insisted the implants were not dangerous.