French elections: PM Fillon prompts halal-kosher row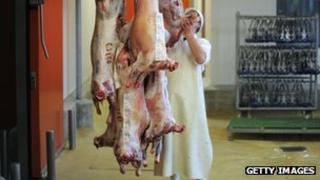 Muslim and Jewish groups have reacted with dismay after French PM Francois Fillon suggested the religious slaughter of animals was out of date.
The row began when a TV documentary said last month that all abattoirs in Paris region were producing halal meat.
National Front presidential hopeful Marine Le Pen then complained they had "succumbed to the rules of a minority".
With the election next month, Mr Fillon has also weighed in, saying religions should re-think their traditions.
The Jewish and Islamic method of slaughter involves the use of a razor-sharp knife on conscious cattle while non-religious butchers stun the animal first.
Although officials have made it clear that most of the meat consumed in the Greater Paris is slaughtered outside the Paris area, the issue has not gone away.
President Nicolas Sarkozy, who is trailing Socialist candidate Francois Hollande in the opinion polls, addressed the issue at the weekend, pronouncing himself in favour of the "labelling of meat according to the method of killing".
'Scapegoats'
Mr Fillon told French radio station Europe 1 on Monday that "religions should think about whether they should keep traditions that don't have much in common with today's state of science, technology and health problems".
His remarks prompted France's Grand Rabbi Gilles Bernheim to argue that there was no place for such a debate.
"France's problems are so important, as we are in a period of crisis, so how can the issue of kosher meat and halal meat be a major problem for France?"
Mohammed Moussaoui, head of the French Council of the Muslim Faith, said the council "cannot understand why Islam and Muslims are being used as scapegoats in this campaign".
France has an estimated 3.5 million Muslims and President Sarkozy's former justice minister Rachida Dati, herself a Muslim, said Mr Fillon was "mixing everything up" and many religious people were upset.
Francois Hollande, currently leading in the polls, called on his rivals to "avoid these false debates and futile rows", warning that they had left Muslims and Jews in France hurt, regardless of their politics.
Mr Fillon is due to meet the grand rabbi on Wednesday.