Budget woes: Is Spain the next Greece?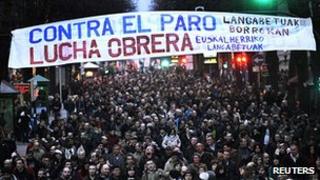 These are dangerous days for Spain. The country is heading for recession.
The economy will shrink by 1.7% in 2012. Its unemployment rate - the highest in the EU - is heading towards 24%. Over 50% of young people cannot find work. Only last week the government in Madrid confirmed that its budget deficit for 2011 would be 8.5% of national output (GDP), so missing the target of 6%.
Worse was to come. The Spanish Prime Minister, Mariano Rajoy, said the target for cutting the budget in 2012 would be missed. The deficit would be 5.8% of GDP rather than 4.4%.
Then today the European Commission said there were "grave" and "serious" gaps in the figures for 2011. It is worth recalling that it was the Greek admission in 2009 that their accounts could not be trusted that sparked the eurozone debt crisis.
The gap in last year's figures amounts to tens of billions of euros. Possibly as much as 90bn euros (£75bn). And to put that in perspective - it's the size of the entire bailout for Portugal.
The government in Madrid is blaming the previous Socialist government, but it is also struggling to rein in the powerful regional governments which have run up sizeable debts.
"We need to shed full light on what went on in Spain in 2011," said the spokesman for EU Economics Commissioner Olli Rehn.
Despite the new pact for enforcing budgetary discipline - signed only last Friday - the Spanish government decided on its own that it would miss the targets for this year. The government in Madrid wanted to underline it was a "sovereign decision". It did not consult with other EU leaders.
The Spanish government believes that, like Greece, it could find itself trapped in a spiral of decline if it does what Brussels insists on and makes further spending cuts.
Its actions underline a simple truth. Governments can sign pacts, but in the end they are elected to act in the best interests of their voters, rather than officials in Brussels.
There were hints today that Spain could be at risk of fines and sanctions for a "grave" breach of budget limits.
But as austerity deepens and recession looms other countries too will baulk at meeting deficit targets set by Brussels. As Sony Kapoor from the Re-Define think tank said, "this could be the shape of conflicts to come". Governments locking horns over budgets with EU officials.
The mood in Brussels is stubborn. They are aware that if they start negotiating with Madrid the financial markets and others will question what all the summits and new regulations were for.
Some officials believe that the EU's credibility is on the line and want to move to infringement proceedings. How suspending EU grants would help Spain is hard to explain.
The expectation, however, must be for a fudge. Spain is too important a country to be in dispute over its budget, but if it is allowed to postpone some of its toughest cuts it sends out a clear signal that bilateral deals can be done.