Death of singer Lucio Dalla sparks Italy gay debate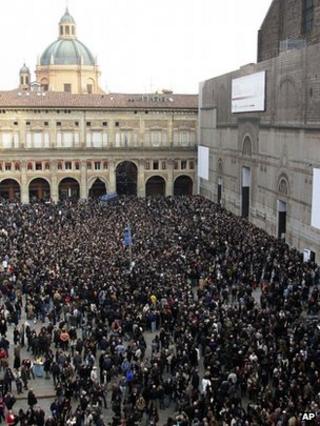 The death of one of Italy's most popular singers, Lucio Dalla, has sparked debate about attitudes towards homosexuality in the country.
Dalla, who died at the age of 68, was buried in his home town of Bologna on Sunday.
His companion gave an emotional address to the 50,000 who gathered to watch the event, which was carried live on TV.
Commentators have said that Mr Dalla's reserve about his sexuality reveals Italy's levels of discrimination.
"Lucio Dalla's death is marked at the cathedral. But Lucio Dalla was a man who, being gay, never said it out [loud]," said widely respected journalist Lucia Annunziata.
She said Dalla's case was an example of how much homophobia existed in Italy.
"It's all fine and you even get a burial at a cathedral, with all the blessing of the Church, if you don't say you're gay," she said, adding that Italy was permissive only when it turned a blind eye to certain things.
The BBC's Alan Johnston, in Rome, says the much loved singer and songwriter was, with his poetic lyrics and soaring voice, a major part of the nation's musical heritage.
Dalla's work has been described as capturing the frustrations and aspirations in countless Italian lives.
His most famous song was perhaps Caruso - a homage to opera legend Enrico Caruso, written for opera singer Luciano Pavarotti, which sold nine million copies.