Poland train crash: Rail controller faces charges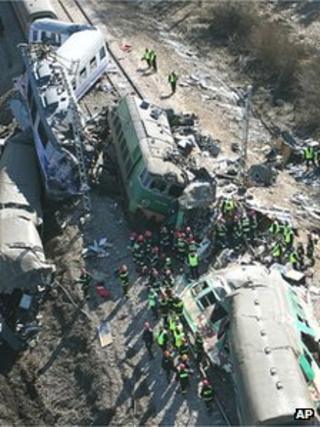 A Polish rail traffic controller is to be prosecuted over a train crash that left 16 people dead and more than 50 others injured.
Poland is observing two days of mourning after two passenger trains crashed head on near the southern city of Krakow on Saturday night.
Two officials on duty at the time of the disaster have been questioned.
One is to be charged because both trains ended up on the same track. He could face eight years in jail.
He has not yet been formally accused of unintentionally causing the crash because of the state of his health, prosecutor Tomasz Ozimek has said.
Polish media report that he is in a state of shock and has been taken to a psychiatric hospital for treatment.
Points investigated
Flags are flying at half-mast on public buildings. Some news websites, including Polish national radio and the daily Rzeczpospolita, are using only black-and-white pictures.
The two trains crashed near Szczekociny. There were 10 carriages in total, carrying about 350 passengers.
It is reported to be Poland's worst train accident for 20 years.
Two women from the US and Russia were among the dead. The injured included citizens of the Czech Republic, Moldova and Ukraine, Polish officials said. Three of the injured are critically ill.
Rescuers are still scouring the wreckage, trying to find out why both trains came to be on the same track.
Investigators hope that statements from the drivers and data from the trains' black boxes will reveal whether human error was to blame.
Polish media reports suggest a set of points had been installed in the area in recent months and one of the lines of inquiry is that the points either failed or were not set correctly.
Alcohol tests on the railway workers on duty were said to be negative.
Polish radio says the regional train travelling north from Przemysl to Warsaw was powered by a very heavy locomotive and suffered much less damage than the southbound Warsaw-Krakow express train.
Transport Minister Slawomir Nowak insisted that Poland's railways were "still very safe" and said football fans planning to travel to Euro 2012 by train should not be put off. Poland and Ukraine will co-host the tournament this summer.