Kremlin orders review of Khodorkovsky's conviction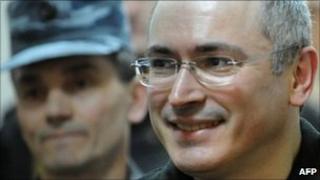 Russian President Dmitry Medvedev has ordered a review of the legality of the conviction of former tycoon Mikhail Khodorkovsky.
A presidential statement said the review should be completed by the prosecutor general by 1 April.
A Kremlin critic and once Russia's richest man, Khodorkovsky was found guilty of embezzlement in 2010.
The former head of oil giant Yukos has been in jail since his first conviction of fraud and tax evasion in 2005.
He says both trials were politically motivated.
'Political revenge'
Mr Medvedev's order was published on the presidential website on Monday morning.
The statement said that Prosecutor General Yuriy Chaika must by 1 April conduct a "review of the legality and basis of convictions of Russian citizens" including Khodorkovsky and his co-accused Platon Lebedev.
In all, there are 32 people whose convictions will be reviewed.
The Kremlin statement - which was posted a day after Prime Minister Vladimir Putin won the country's presidential elections - did not provide any further details.
Khodorkovsky's convictions are widely seen abroad as political revenge for defying the Kremlin by backing Russia's opposition politicians.
He is not due for release from prison until 2016.