Abu Nidal members jailed in France over 1988 attack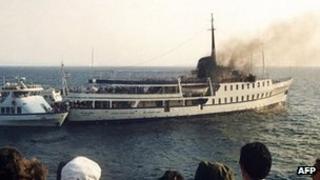 A French court has sentenced three former members of a radical Palestinian group to 30 years in jail over a deadly attack on a Greek cruise liner in 1988.
Adnan Sojod, Samir Khaidir and Abdul Hamid Amoud were convicted in absentia by the court in Paris.
Nine people were killed after gunmen on board the City of Poros opened fire as the liner was approaching Athens.
The prosecutors said the three men belonged to the group led by Abu Nidal, which was active in the 1970-80s.
Their whereabouts are unknown, and the prosecutors admit they may even be dead.
The court in Paris handled the case because three French nationals were killed in the 1988 attack.
The Abu Nidal group is blamed for a series of attacks across the world, which left at least 900 people dead.
Abu Nidal - whose real name was Sabri Banna - died in Iraq in 2002, reportedly committing suicide.
For decades he was regarded as a terrorist and a wanted man - inside the mainstream Palestinian community as much as in the world at large.