Cyprus profile - Leaders
President: Nicos Anastasiades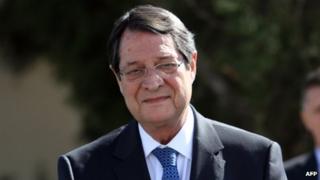 Conservative Democratic Rally candidate Nicos Anastasiades won the February 2013 run-off election by one of the biggest margins for many years, promising to do whatever was needed to secure a financial rescue package.
He pledged to hammer out a quick deal with foreign lenders and bring Cyprus closer to Europe, in a shift from the policies of the outgoing Communist government that first sought aid from Russia before turning to the European Union.
He quickly reached agreement with the European Union and IMF on a 10bn-euro bank bailout, which was equally quickly amended to safeguard smaller bank accounts after parliament rejected the deal.
Finance Minister Michael Sarris felt obliged to resign, and the country continues to face deep recession.
In contrast with the policies of his predecessor who objected to any links with NATO, Mr Anastasiades says one of his first tasks would be to apply for Cypriot membership of the NATO-affiliated Partnership for Peace.
However, a deal that he signed with his Russian counterpart Vladimir Putin in 2015, allowing the Russian navy access to Cypriot ports, points to the continuation of Cyprus's traditionally close links with Russia.
Mr Anastasiades, aged 66 when he was elected, is a lawyer known for his no-nonsense style and impressive access to important European policymakers like German Chancellor and fellow-conservative Angela Merkel.
Eight months of talks on a bailout package turned Cyprus into a big headache for the euro zone, triggering fears of a financial collapse that could reignite the bloc's debt crisis.
Cyprus had been shut out of international capital markets for almost two years, with the outgoing administration resorting to heavy borrowing from state-owned corporations to pay public sector salaries.
On the question of reunification with the separatist Turkish Cypriot north, President Anastasiades welcomed the election of pro-unity Turkish Cypriot leader Mustafa Akinci in April 2015 and immediately agreed to the resumption of hitherto stalled talks.
Turkish Cypriot leader: Mustafa Akinci
Mustafa Akinci, a social democrat, swept to victory in the Turkish Cypriot communal presidential election in April 2015, promising to push harder for a peace deal in Cyprus. He beat the nationalist incumbent Dervis Eroglu, taking 60.5% of the vote.
As long-serving mayor of the Turkish Cypriot municipality of North Nicosia in 1976-1990, Mr Akinci had pioneered cooperation with Nicosia Mayor Lellos Demetriades on practical sanitation and heritage projects.
This experience illuminates his later devotion to the cause of Cypriot reunification. He founded the Peace and Democracy Movement in 2003 in support of the UN's Annan Plan for a united Cyprus within the European Union, and also advocates a policy of greater independence from Turkey in policy matters.
The Cypriot government welcomed his election, and the two sides launched a series of UN-brokered talks on closer ties in April 2015.