Turkey blast wounds police and a civilian in Istanbul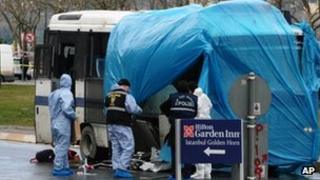 Sixteen people have been hurt in an explosion that hit a police bus in the Turkish city of Istanbul, police say.
The blast happened near the offices of the ruling Justice and Development Party.
Istanbul police chief Huseyin Capkin said 15 police officers and a civilian were wounded when a remote controlled device placed on a stationary motorcycle exploded.
Officials say it is too early to say who was behind the blast.
"It appears that it [the bomb] went off as a police vehicle with 21 officers inside passed by," Mr Capkin said.
Forensic teams began searching the scene shortly afterwards as the injured were taken away for treatment.
Islamist militants, as well as extremist groups have carried out bomb attacks in Turkey in the past but so far no group has claimed responsibility for Thursday morning's blast
Prime Minister Recep Tayyip Erdogan condemned the attack in a news conference in the capital, Ankara. "Our struggle against terrorism will continue with the utmost determination," he said.
TV reports linked the explosion to an attack on a bus stop last year in which eight people were hurt. Kurdish rebels were blamed for that blast.