Croatia profile - Leaders
President: Kolinda Grabar-Kitarovic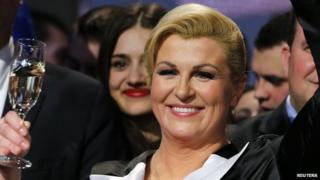 Moderate conservative Kolinda Grabar-Kiratovic was elected Croatia's first female president in January 2015, narrowly beating Social Democrat incumbent Ivo Josipovic in a run-off vote.
She pledged to kick-start the country's ailing economy.
She had previously served as foreign minister, ambassador to the United States and NATO assistant secretary-general.
The role of president is largely ceremonial. The president proposes the prime minister but it is for parliament to approve the nomination.
The president can dissolve parliament and call elections.
Prime minister: Zoran Milanovic
Zoran Milanovic became prime minister after his four-party centre-left coalition bloc defeated the conservative Croatian Democratic Union (HDZ) in elections in December 2011.
The HDZ had held power for most of the previous two decades, but had come to be seen as mired in corruption - a view that was confirmed when former HDZ prime minister Ivo Sanader was put on trial for corruption in November 2011.
Riding a tide of popular anger over government graft and economic stagnation, the Kukuriku ("cock-a-doodle-doo") bloc led by Mr Milanovic's own Social Democratic Party (SDP) won 81 seats in the 151-seat national assembly. The SDP took 61 of those seats.
Mr Milanovic's chief election pledges were to revitalise the struggling economy and prepare Croatia for EU membership.
His government adopted tough austerity measures in an effort to avoid a further downgrade in the country's credit rating - which by the end of 2010 had deteriorated to just a notch above junk status - revive industry and attract foreign investment.
Mr Milanovic's efforts to restructure industry - especially the country's ailing shipyards - and cut back on public spending in order to meet the conditions for EU entry brought the government into conflict with the unions and dampened enthusiasm for EU membership.
Unemployment has remained stubbornly high. Shortly before the centre-left coalition came to power the jobless rate stood at just under 18%; by February 2013 it was closer to 19%, with youth unemployment at 51%.
Efforts to rein in spending were not enough to stop a decision by EU finance ministers in January 2014 to launch proceedings to force Croatia to cut its deficit in half to bring it within the top limit set by the EU.
Zoran Milanovic joined the SDP in 1999 and became the party's president in June 2007, in an election that followed the death of the party's founder, veteran Croatian politician Ivica Racan, two months earlier.
He then led the SDP into the November 2007 general election, which it narrowly lost.
He was born in Zagreb in 1966 and after studying law at university embarked on a diplomatic career. In 1994, he went to Nagorno-Karabakh on a peace mission on behalf of the Organisation for Security and Co-operation in Europe (OSCE), and was the first Croatian citizen to serve in this role.
He is married, and has two sons.