Ireland gets to vote on EU fiscal treaty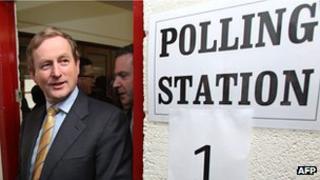 The Irish people will get to vote again on their relationship with Europe.
This time it is a referendum on the new pact enforcing budgetary discipline within the eurozone.
The polls suggest the Irish people want a say. History suggests the EU cannot take the support of the Irish people for granted. They voted "no" to the Lisbon Treaty, before being asked to vote again when they were encouraged to change their minds.
This time they hold less power. With the Lisbon Treaty the Irish held a veto. The new fiscal pact only requires the approval of 12 countries to come into force. The power of the individual country and voter has been weakened.
However, the Irish vote will be of great symbolic significance. It will enable a section of Europe's voters to give their verdict on what is a giant step towards fiscal union. That step involves a loss of sovereignty and the Irish will be able to debate it.
In Brussels the Irish government had tried to water down the new pact in the hope it would escape needing a national vote, but Ireland's top legal official judged that "on balance" it was significant enough to be put to the people.
The Irish Prime Minister (Taoiseach), Enda Kenny, said "I am confident that the Irish people will do what is necessary… In the end, what this will come down to is a vote for economic stability and economic recovery."
Some in the Irish government have already warned that a "no" vote would in effect be a referendum on euro membership. It is an argument that has been used in Athens and elsewhere - that any rejection of an EU plan would be disastrous.
Time and again Greek MPs have been told that a "no" vote would lead to a "catastrophe", with Greece being forced out of the single currency.
That won't happen in Ireland. The major consequence is that it would restrict Ireland from receiving funds from the new permanent bailout fund, the ESM - the European Stability Mechanism - which comes into force later this year.
In Brussels there is often a palpable fear of consulting voters. But step by step significant powers are being given to the Commission which weaken national governments. In the future governments will have to submit their budgets to Brussels for review. EU officials will be able to demand spending cuts, with the threat of fines. Despite what the voters may want, under the new pact countries will have to deliver a balanced budget.
It is anticipated that in order to save the single currency full fiscal union and eventual political union will follow. Such changes would be huge.
Ultimately Europe's leaders need to know whether they are acting in the name of the people when they promote closer integration. That is why the Irish referendum will matter - not just in Dublin, but across Europe.