EU recalls ambassadors to Belarus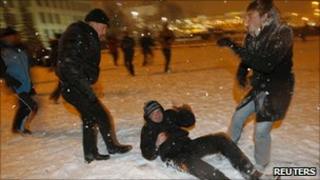 The EU is to recall its ambassadors to Belarus after Minsk expelled the bloc's representative and the Polish envoy in protest over new sanctions.
EU foreign policy chief Catherine Ashton made the announcement late on Tuesday.
Minsk has also recalled its own ambassadors from Brussels and Warsaw.
The move comes afterthe EU announcedit was imposing restrictions on 21 people because of human rights violations.
The EU has already blacklisted at least 160 Belarusian officials.
Brussels announced those measures - as well as a visa ban and asset freeze of Belarus President Alexander Lukashenko - in January.
'Other measures'
Belarus foreign ministry spokesman Andrei Savinykh said "it has been suggested" that the EU and Polish envoys "return to their capitals for consultations to communicate to their leadership the firm position of the Belarussian side that pressure and sanctions are unacceptable".
Minsk was recalling its own envoys from Brussels and Warsaw and could take "other measures to protect its interests" under further pressure, Mr Savinykh is quoted by Reuters as saying.
The decision by the EU to blacklist Belarusian officials followed disputed elections in December 2010, and the arrest of four opposition candidates.
Diplomats said at the time the sanctions would be imposed on officials "involved in repression" after the vote.
More than 600 people were detained, including seven of the candidates, after protests against what international monitors said was a rigged vote.
Riot police broke up a rally of several thousand people in Independence Square in Minsk.