Wikileaks: Russian prosecutor Chaika ridicules claims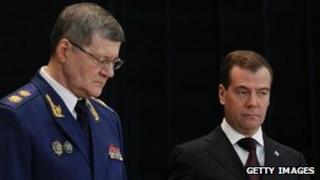 Russian Prosecutor General Yuri Chaika has rejected as "delirious" a Wikileaks publication suggesting he gave information to US think-tank Stratfor.
The memo, one of millions of Stratfor's internal emails released by the whistle-blowing site, appears to include his views on Kremlin clan wars.
It contains quotes from a source identified as "prosecutor general".
His spokeswoman said forces behind the publication were set on "destabilising" Russia's political situation.
Russian media reports on Tuesday highlighted the US private intelligence firm's alleged links to the CIA.
'Grey cardinal'
The source cited in the memo, dating back to 2009, appears to link Mr Chaika to a clan headed by former Kremlin ideologist Vladislav Surkov, known by critics as the "Kremlin's grey cardinal".
It complains about a rival clan, headed at the time by Deputy Prime Minister Igor Sechin and Security Council chief Nikolai Patrushev.
"The problem is that Sechin/Patrushev want to come after me (Chaika), but Surkov will not allow such a move", the source is quoted as saying. The prosecutor general's surname appears in brackets in the original memo.
Several other memos have been published containing quotes from the same source, which goes by the codename RU101.
Mr Chaika's spokeswoman Marina Gridneva said the Wikileaks publication was a "delirious rant" and an "act of provocation". She said that an official of Mr Chaika's stature could not have had any unsanctioned contacts with any foreign organisations since "he is being watched 24 hours a day".
"It testifies to the fact that the Attorney General is a thorn in the side of foreign intelligence services, which have long been protecting fugitive oligarchs that appear on our wanted list."
Mr Chaika's office has tried for years to extradite businessman Boris Berezovsky who received political asylum in Britain.
Yuri Chaika has held the post of Prosecutor General since 2006.
Last year, Russian media widely reported a standoff over an investigation into illegal casinos between his office and the Investigative Committee, the Russian equivalent of the FBI.
Several regional prosecutors' offices were raided by investigators.
"Chaika is a sworn enemy of [Investigative Committee chief] Alexander Bastrykin," analyst Stanislav Belkovsky told the BBC.
"Bastrykin, in his turn, is the creation of Mr Sechin", he added.
The source in the Wikileaks memo describes Mr Bastrykin as a "foot soldier" of Sechin/Patrushev's clan.