Spain judge Baltasar Garzon cleared on Franco probe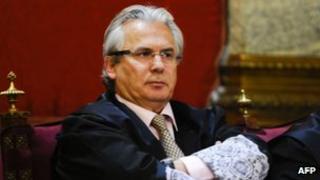 Spain's Supreme Court has cleared high-profile judge Baltasar Garzon of violating a 1977 amnesty law with his investigation of Franco-era crimes.
Two right-wing groups had accused Mr Garzon of overstepping his powers by trying to prosecute crimes committed between 1936 and 1975.
Mr Garzon said crimes against humanity should not be subject to an amnesty.
Earlier this month, he was suspended from the bench for 11 years after being found guilty of illegal phonetapping.
Mr Garzon has vowed to fight that conviction. He faces a third trial, brought by private parties, which involves allegations that he took bribes.
The 56-year-old campaigning judge is best known worldwide for helping to secure the arrest of the former Chilean leader Augusto Pinochet in London in 1998.
But he is a controversial figure who divides opinion in Spain, say observers.
His supporters on the left view him as a champion of human rights and justice, but his detractors believe he is a politically-motivated publicity-seeker.
'Reopened wounds'
A Supreme Court spokeswoman said the judges voted 6-1 to acquit Baltasar Garzon.
He was cleared on the basis that his investigations into Franco-era crimes were defensible in legal terms, says the BBC's Tom Burridge, in Madrid.
But although it is a significant decision in a significant case, Mr Garzon's suspension from the bar in the earlier case means he will not be able to continue with the investigation, our correspondent says.
Mr Garzon decided in 2008 to investigate the disappearance of tens of thousands of people during the civil war and the subsequent dictatorship of General Francisco Franco, including ordering the excavation of mass graves.
The move provoked fierce criticism and anger from those on the right who argued that the point of the 1977 amnesty was to allow Spain to forget the alleged crimes of that era, and move on.
Two groups - Clean Hands and Liberty and Identity - who brought the case against him said they did so because Mr Garzon had "reopened wounds which we Spaniards - whatever our political beliefs - had totally recovered from".
But some of Mr Garzon's greatest supporters during his court hearing have been the relatives of those who disappeared, who had pinned their hopes for justice on his investigations.
While Monday's Supreme Court ruling will be celebrated by relatives of the disappeared, its implication for any future investigation is unclear, our correspondent says.