Sweden's Princess Victoria gives birth to baby daughter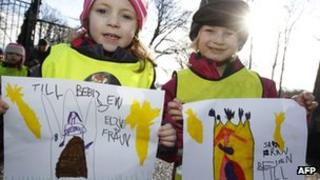 Sweden's Crown Princess Victoria has given birth to a baby girl who will be second in line to the throne.
The newborn's father, Prince Daniel, said "a very sweet little princess" had been born at 04:26 local time.
Victoria, 34, and Daniel, 38 - her former personal trainer and gym owner - married in June 2010.
The birth was greeted by two 21-gun salutes on Skeppsholmen island, opposite the royal palace in the capital Stockholm.
"My feelings are a little bit all over the place," said Prince Daniel at a news conference in the capital.
He said his daughter was 51cm (20in) long and weighed 3.28kg (7lb).
'No special treatment'
"The crown princess feels brilliant, she is so happy and everything has gone very well," he added.
Prince Daniel said he was "pretty nervous'' during the birth and that he had cut the baby's umbilical cord.
It is the first royal birth since Victoria's sister, Madeleine, was born in 1982 and the first grandchild for the king and queen.
One of the doctors present during the delivery, Lennart Nordstrom, said that the royal couple had specifically requested that they should not receive any special treatment.
"Both the crown princess and Daniel have been adamant that they should receive the same care as everyone else,'' he told the Associated Press.
The name of Crown Princess Victoria's baby will be announced by the king at a cabinet meeting, expected to take place on Friday or Saturday.
Some reports suggest that Desiree - the original name of the wife of the first monarch from the Bernadotte family, which has ruled Sweden since 1810 - may be chosen.
Victoria is next in line to the throne held by her father, King Carl XVI Gustaf, since 1973.
Sweden changed the constitution in 1980, three years after Victoria was born, to allow the eldest heir to inherit the throne, regardless of gender.
Victoria is extremely popular in Sweden.
Several recent surveys suggest a majority of Swedes would like to see her father - who has been embroiled in multiple scandals over alleged affairs and wild parties - abdicate in favour of his daughter.