Greece bailout: MPs approve debt swap deal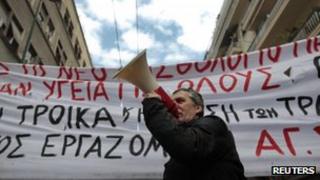 The Greek parliament has passed a law that allows a debt write-down with private creditors, which is a key plank of its EU/IMF bailout agreement.
Banks and other private creditors will be asked to take a 53.5% loss on their bonds, wiping out 107bn euros (£90bn;$142bn) of Greek debt.
Now that the debt swap has been approved, MPs will also be asked to back further austerity measures.
They are required before Greece receives its second big EU/IMF loan.
Earlier this week, eurozone countries agreed to the 130bn euro loan in order to bring Greece's debt down from 160% of GDP to 120.5% of GDP by 2020. Without a further loan, Greece stands to default on its debts on 20 March.
Ministers have to push through 3.3bn euros in budget cuts in the next few days. One of the harshest measures is a 22% reduction in the minimum wage, which is set to go through early next week. A minimum monthly wage would fall to 580 euros, and even less for people aged under 25.
MPs are also due to vote next week on pension cuts as well as reductions in the health, education and defence budgets.
Doctors and other health workers went on strike on Thursday, protesting outside the health ministry.
'Cheese on a mousetrap'
The debt-swap law went through parliament on Thursday largely because of the support of the two main parties - Pasok and New Democracy - in Prime Minister Lucas Papademos's coalition government.
A number of left-wing groups and the far-right Laos party, which recently pulled out of the government, objected to emergency measures being used to push through the bill.
"You put the debt swap in front of us like a piece of cheese on a mousetrap, which is 10 years of hardship," MP Dimitrios Papadimoulis told parliament, adding that a proposal to slash 300m euros from pensions should be replaced with a freeze on an order for two German-made submarines.
But Finance Minister Evangelos Venizelos said that not ratifying the bond-swap deal would be catastrophic.
"The true dilemma is: either sacrifices with prospects, or complete destruction with no prospects. Either cuts which are harsh... or the inability to pay salaries and pensions," he said.
Included in the debt swap law are collective action clauses (CACs) which will force all private bond-holders to take a loss on their investments if two-thirds of investors back the government's offer. For the swap to go ahead, 50% of investors will have to respond to it.
The European Commission has forecast a 0.3% contraction in the eurozone economy in 2012, with the Greek economy expected to shrink by 4.4%.