Strauss-Kahn freed by police in prostitution inquiry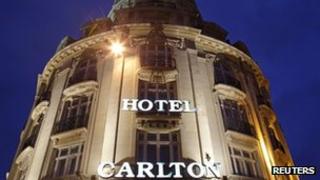 Former IMF head Dominique Strauss-Kahn has been released after two days of questioning by French police over an alleged prostitution ring.
He is to appear before an investigating magistrate on 28 March who will decide whether to press charges.
Mr Strauss-Kahn had been held at a police station in Lille since Tuesday.
Once a potential candidate for the French presidency, he was questioned about an alleged pimping operation and misuse of company funds.
Eight men have already been arrested as part of the inquiry known as the "Carlton affair" - named after a Lille hotel where clients were said to have been supplied with call-girls.
Investigators had earlier interviewed prostitutes who said they had sex with the former Socialist politician.
Although having sex with a prostitute is not illegal in France, the judge will want to find out whether he was aware the women had been paid for by company expense accounts.
"He is entirely satisfied to have been heard,'' his lawyer Frederique Beaulieu told reporters after he was released.
She said Mr Strauss-Kahn's questioning had answered all questions asked.
"The fact that he is released free is a very good thing," she said.
Mr Strauss-Kahn resigned as head of the International Monetary Fund (IMF) in May 2011 after he was charged in New York with the attempted rape of a hotel maid. The case was later dropped.
Mr Strauss-Kahn returned to France in September 2011 although the hotel maid involved in the case is pursuing a civil action.