Alarm over UK-French drone document theft in Paris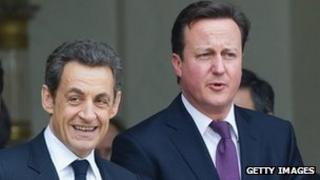 A briefcase filled with documents relating to a new Franco-British drone project has been stolen at the Gare du Nord station in Paris, reports say.
Police have been examining closed circuit film to discover who took the papers, reportedly on 2 February.
UK PM David Cameron discussed a plan for pilotless drones with President Nicolas Sarkozy last week.
French developer Dassault Aviation says no sensitive documents were taken and the project's security is not at risk.
The BBC's Christian Fraser in Paris says the bilateral development plan is the biggest since the two countries recently agreed to share defence assets.
According to a report in Le Parisien newspaper, the briefcase was stolen when a senior Dassault Aviation official buying a Eurostar rail ticket went to the help of a colleague who was being bothered by a young man. When the official returned to retrieve his case, it had disappeared.
It is thought his attention was deliberately diverted while an accomplice made off with the case.
A Dassault spokesman denied initial French reports that important documents were taken, suggesting it was a straightforward criminal act.
"The police shouldn't have difficulty finding the thieves because the area was filmed," he told French media.
The company has said it is confident that the theft will not bring into question the secrecy of the project and is hopeful the documents can be recovered.
At a meeting in Paris on 17 February, Mr Cameron and the French leader agreed to work more closely on military operations and civil nuclear power, pushing ahead with plans for the next phase of a planned new generation of unmanned "fighter drone" aircraft.