Portuguese defy austerity carnival ban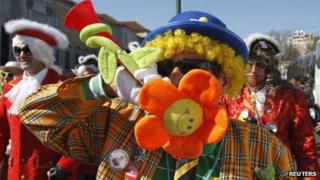 People in Portugal have defied a government appeal to carry on working instead of celebrating the traditional Shrove Tuesday carnival celebrations.
The government had scrapped the Mardi Gras holiday as part of austerity measures amid the economic crisis.
But many companies and public buildings shut down anyway, with carnival street parades set to go ahead.
Portugal took a 78bn euro (£63bn; $103bn) bail-out last year in return for reforms and spending cuts.
It was forced to accept help from other European countries and the International Monetary Fund (IMF) after the global financial crisis meant it could no longer afford to finance its debts.
The coalition government, headed by Prime Minister Pedro Passos Coelho, was obliged to implement austerity measures and economic reforms as a condition of the bail-out.
When Mr Passos Coelho announced that the traditional holiday would not be granted, he said that this was not a normal year.
"It's an important year of national emergency," said the prime minister.
"[I hope] the Portuguese understand that this is no time to be talking about tradition, it's about finding out who wants to beat this crisis and who wants to cling to old traditions."
But his appeal appeared to have been ignored across the country, with media reports saying half the country's workers had stayed at home.
'No laughing matter'
"Cancelling holidays is not going to help us in any way," 25-year-old shop assistant Rosa Gomes, who had chosen to go to work, told Reuters.
"People are just going to be more disappointed and demotivated about their lives."
Others agreed with the government's call to work harder.
"We have to work for the good of the country,'' 54-year-old Manuel Agostinho, himself unemployed, told AP.
"It's no laughing matter."
Portugal has not seen the level of resistance to reform and social unrest witnessed in Greece, but the on-going recession and record unemployment have contributed to a gloomy mood.
Carnival - celebrations marking the last day before the Christian fasting time of Lent - is traditionally celebrated throughout Portugal.
It spread from there to the former Portuguese colony of Brazil, home of the biggest carnival in the world, Rio de Janeiro's.