Spain protest over riot police beatings in Valencia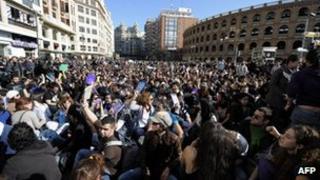 Thousands of people have demonstrated in the Spanish city of Valencia after police were accused of using violence at a protest the night before.
A student demonstration against budget cuts ended in clashes, several injuries and the arrest of 25 protesters.
The students complain that reduced spending has left classrooms unheated.
Interior Minister Jorge Fernandez Diaz has indicated that "some excesses" were carried out by police and PM Mariano Rajoy has appealed for calm.
Speaking after talks in London with UK Prime Minister David Cameron, Mr Rajoy said "if everyone acts with restraint and common sense then these kind of things won't happen again".
A regional police chief said the police response on Monday had been "proportionate" and a spokesman said that of the 13 people hurt, 11 were officers.
But the students accused police of using brutal tactics and photos showed youths being beaten and dragged along the ground.
Tuesday's protest began at a student institute in Valencia but quickly grew as school and college students, parents and teachers joined a march that went past the town hall in the city centre, Spanish media report.
The protesters, many of whom were waving their books, called for the resignation of the government's Valencia representative, Paula Sanchez de Leon, as well as the release of the students arrested the previous evening.
On Sunday, there were mass rallies in Madrid, Barcelona, Valencia and Seville against labour market changes approved by Mr Rajoy's conservative government to cut severance pay and give employers greater flexibility over jobs.