German parties agree on Joachim Gauck as new president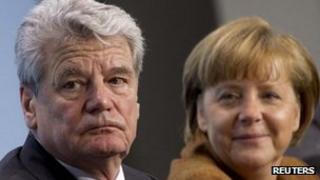 German Chancellor Angela Merkel has said she backs Joachim Gauck, a pastor and former East German rights activist, to be the country's next president.
Mr Gauck was proposed by the opposition Social Democrats and Greens after Christian Wulff quit as president on Friday over corruption allegations.
Mrs Merkel opposed Mr Gauck for the presidency in 2010, instead supporting her ally Mr Wulff.
Germany's president has a largely ceremonial, but influential, role.
With the backing of all the major parties, Mr Gauck's election to the position next month should be a formality.
In 2010, he was the presidential candidate of the Social Democrats and Greens, but lost to Mr Wulff.
The 72-year-old Mr Gauck is well known for his work as a dissident in East Germany and for running the archives on the Stasi secret police after the Berlin Wall came down, exposing its crimes.
Moral authority
Mrs Merkel confirmed her backing for Mr Gauck at a news conference in the Chancellery after a meeting with representatives from her centre-right government and the opposition.
"Let's not forget that we have churchmen like Gauck to thank for the success of East Germany's peaceful revolution," she said.
Mrs Merkel is herself the daughter of a Protestant pastor and, like Mr Gauck, grew up in the former East Germany.
"This man can provide an important impetus for the challenges of our time and the future," she said.
The president's role is largely ceremonial, to serve as a moral authority for the nation.
Mr Wulff resigned on Friday after prosecutors in the state of Lower Saxony sought to have his presidential immunity lifted.
He is accused of accepting financial favours and of taking a low interest 500,000-euro loan (£417,000; $649,000) from the wife of a wealthy businessman in October 2008.
He denies any wrongdoing.
But the affair has come at a bad time for Mrs Merkel, who is trying to steer a way through the eurozone crisis.