Ratko Mladic's genocide trial delayed until May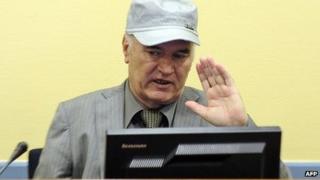 The war crimes tribunal for the former Yugoslavia has delayed the start of the trial of former commander of Bosnian Serb forces Gen Ratko Mladic to give his lawyers more time to prepare.
The trial will now start on 14 May - not 27 March as had been planned.
Gen Mladic's defence lawyers had argued that they needed to go through thousands of pages of evidence.
The 68-year-old defendant faces 11 war crime charges, including two genocide counts. He denies the charges.
Gen Mladic was arrested in Serbia last year after 16 years on the run.
He is charged with genocide at Srebrenica, where 7,500 Muslim men and boys were killed in July 1995.
He also faces charges over the 43-month siege of Sarajevo, from May 1992 to November 1995.
In December, the tribunal reduced the number of charges against the general because of fears about his health.
It accepted the prosecutor's request to cut the number of crimes in the indictment from 196 to 106.
Gen Mladic has repeatedly complained about various ailments since his arrest, and was admitted to hospital in October after his lawyer had said he had pneumonia.
In 2006, former Yugoslav President Slobodan Milosevic died in custody at the tribunal, in The Hague.