Russia mayor bans election activists' toys protest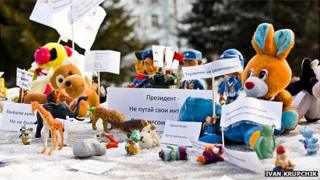 A mayor in eastern Russia has banned a humorous demonstration in which toys would replace human activists demanding a clean presidential election.
The mayor of Barnaul in Siberia ruled that toys could not be participants in a demonstration.
Two such "nano-meetings" of toys sporting tiny placards were staged in a square in Barnaul earlier this month.
Prime Minister Vladimir Putin, who was president in 2000-2008, is tipped to win the presidential poll on 4 March.
The Barnaul ban was reported by one of the Siberian activists, Sergei Andreyev, a member of the independent election watchdog Golos.
He wrote in his blog that his group wanted to deploy more than 200 toys in a rally on 18 February - little Lego men, toy soldiers, Kinder Surprise figurines and cuddly toys.
The idea was to get round a ban on unauthorised demonstrations, but Barnaul police had already alerted the mayor about "the use by political opposition forces of new techniques at public rallies - nano-meetings with toys".
A fellow activist, Olga Fotiyeva, said the event was intended to highlight a "violation of the right, under Article 31 of the Russian Federation Constitution, freely to hold peaceful meetings and demonstrations".
Fraud allegations marred December's parliamentary poll won by Mr Putin's party, United Russia.
International observers, as well as Russian opposition activists, voiced concern about reports of ballot-stuffing and other irregularities in the vote.
Mr Putin insisted the parliamentary results were valid.
Tens of thousands of activists have attended opposition rallies in recent weeks. Many of them are urban professionals connected through online social networks.