Sarkozy set to announce re-election bid on French TV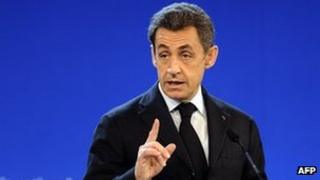 France's President Nicolas Sarkozy is expected to announce his bid for re-election on a television news show on Wednesday evening.
The conservative president is trailing a long way behind his socialist challenger, Francois Hollande, in the opinion polls ahead of the April vote.
Mr Sarkozy, seeking a second term, is expected to project himself as a reliable, experienced economic manager.
Nationalist Marine Le Pen and centrist Francois Bayrou are also in the race.
The BBC's Hugh Schofield in Paris says Mr Sarkozy has been delaying his announcement, hoping to be seen as a man too busy grappling with France's economic troubles to find time for mere electioneering.
But his advisers have urged him to act, warning that Mr Hollande's strong lead could soon become unshakeable.
Our correspondent says that no candidate for the presidency has started the campaign this far behind in the polls and then gone on to win.