Turkish football match-fixing trial gets under way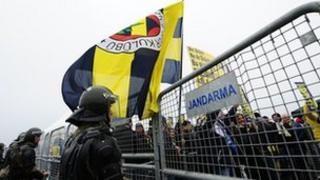 Some of the top names in Turkish football are facing judges near Istanbul as nearly 100 people go on trial accused of match-fixing.
Aziz Yildirim, the president of Fenerbahce, one of Turkey's leading clubs, and 92 other suspects are charged in the scandal.
Nineteen of last season's league matches are said to have been affected.
Hundreds of Fenerbahce fans protested outside the court, shouting slogans to defend their club's reputation.
"The government might collapse, inflation might go down, but Fenerbahce can never be relegated," the fans chanted, according to AP.
One fan, Sedat Dogan, told AFP: "Our name has been covered in mud but we are going to wipe it clean."
Champions League bar
The Istanbul club won the league title last year but were barred from the European Champions League because of the alleged involvement in the match-fixing scandal.
One of the matches being investigated is Fenerbahce's 4-3 victory over Sivasspor that won them the title.
Another top club, Besiktas, were forced to hand back the Turkish Cup.
The suspects in the trial include players and managers from several major clubs as well as Fenerbahce.
Twenty-three of them are currently in prison, including Mr Yildirim.