Two convicted in asbestos-linked deaths trial in Italy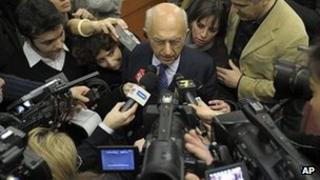 An Italian court has convicted a Swiss tycoon and a Belgian baron of negligence over some 2,200 asbestos-related deaths.
Stephan Schidheiny and Jean-Louis de Cartier each got 16 years in prison.
The Turin court said the two had failed to comply with safety rules at building firm Eternit, where they were key shareholders. They denied the charges.
Prosecutors argued that thousands had died from contact with asbestos fibres processed in four of the firm's plants.
Swiss Schmidheiny, 64, and Belgian De Cartier, 90, were sentenced in absentia on Monday.
Their charges carry a maximum 12-year term, but during the trial the prosecutors had pushed for a harsher punishment, arguing that the fallout continued to affect victims.
They also said Eternit's plants had spread asbestos fibres over parts of northern Italy by allowing powder left over from production of roof coverings and pipes to waft through the air.
Some 1,500 relatives and supporters of the victims watched the final day of the trial on large TV screens set up in Turin.
"This trial will go down in history... but it will not bring my dad back," Piero Ferraris, whose father Evasio died in 1988 of lung cancer after working in a local Eternit factory, was quoted as saying by the AFP news agency.
Eternit closed its operations in Italy in 1986 - six years before asbestos was banned in the country.