Hackers vow new 'Anonymous' attacks on Kremlin groups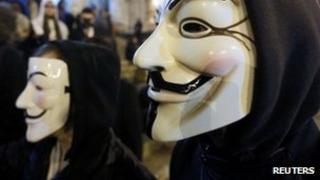 Members of the Anonymous network in Russia have said they will continue to target pro-Kremlin activists.
The group has published emails it said were from the youth movement Nashi, suggesting Russian bloggers were paid to support the government.
Some of the bloggers involved denied taking money for their views.
Anonymous told the BBC they had targeted Nashi because it was trying to expand government control over the internet.
The main revelations this week came from emails which were described as being from former Nashi spokeswoman Kristina Potupchik.
They detailed payments worth hundreds of thousands of dollars to bloggers and journalists apparently in exchange for favourable publicity for Nashi, or negative comments written beneath articles criticising the movement.
Ms Potupchik has not made any comment on the allegations. The leader of Nashi, Nikita Borovikov, told the Guardian newspaper that he was used to hacking attacks and had nothing to hide.
Photographer and blogger Ilya Varlamov told BBC Russian that he did email Ms Potupchik on a few occasions but never accepted any money.
"No one can find a single post on my blog that has been paid for, let alone pro-government.… If I do take money, I always label those posts as ads," said Mr Varlamov.
Russian opposition criticised
Anonymous said Ms Potupchik was targeted after Nashi activists wearing the group's Guy Fawkes masks started handing out fake copies of independent newspaper Novaya Gazeta in September last year.
The newspaper said the fake issue contained "funny stories about opposition politicians", with a front page story about Russian Prime Minister Vladimir Putin promising to prevent the end of the world. Novaya Gazeta made an official complaint but in late January it said prosecutors had considered there was no crime involved.
Russian-based members of Anonymous also told the BBC they they had taken part in hacking attacks in various countries, including those on Visa, Mastercard and Paypal in late 2010 in support of the Wikileaks founder Julian Assange.
However, the group said it was less than enthusiastic about current Russian opposition leaders; it said they were exploiting mass protests against allegedly rigged parliamentary elections held in December.
"We do not support opposition forces because most of those forces have been manufactured by the Kremlin and are not really opposition. We support ordinary citizens and if something like Tahrir [square in Cairo] were to happen in Russia in near future, we would naturally help them," said Anonymous by email.
Anonymous rejected suggestions that their actions are unlawful and no different from recent phone hacking attacks on Russian opposition leaders.
Since the emails were published there have been calls in Russia for Nashi to be investigated for its activities.