Djindjic murder: Guards held over Kalinic escape bid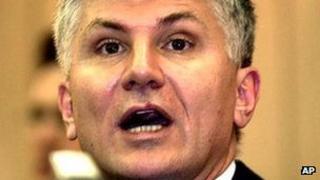 Five prison guards have been held after a failed escape bid by two inmates, including a man who plotted ex-PM Zoran Djindjic's killing, officials say.
Interior Minister Ivica Dacic said authorities would investigate whether convicted murderers Sretko Kalinic and Zeljko Milovanovic had outside help.
The pair reportedly cut cell bars, overpowered a guard and jumped from a window, before being caught by police.
Kalinic is serving 30 years for his role in Djindjic's 2003 assassination.
Both he and Milovanovic are members of the western Balkans' notorious Zemun clan.
Kalinic was sentenced in his absence in 2007 after being found guilty of plotting the reformist prime minister's shooting by a sniper. He was later arrested and extradited from Croatia. He was also convicted of a number of other murders and a series of abductions.
Milovanovic was sentenced in Croatia to 40 years in jail for killing a Croatian newspaper owner and another man.